"Retour is the French term for going back or returning home.
It's about a journey back to the roots, a homecoming that endures." - LW
Wine matters when it leads us on the road to home. We are anchored to the Willamette Valley because it is fundamental to who we are – abundance in the face of capricious summers and blustery winters, the sweet and exotic smells of sun-drenched blackberries, succulent peaches and crisp apples, the salty sting of cold Pacific ocean winds and the strong work ethic and caring attitude of the people. The Willamette Valley hums with the harmony of this song and it is our sincere hope to share it with you through our wine.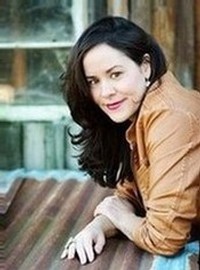 Lindsay Woodard, Proprietor
Sixth-generation Oregonian, Lindsay Woodard has been on a trailblazing path as a wine entrepreneur from an early age. Known for her steadfast ambition, she was one of the youngest individuals to start a winery in the Willamette Valley. Her experience in the wine business has been deeply rooted. Like all of us who are raised in one area, we dream to flee and experience exotic new places. In 2002, an outstanding opportunity led her to live in the Napa Valley and explore working in a different wine region.
Never forgetting how special and unique Oregon is, she was ultimately driven by a passion to return to her roots and set out to craft a complex and nuanced Pinot Noir that shares the purest expression of her childhood native soil. In 2005, with no fear of taking a risk, Lindsay founded Retour. "Retour is the French term for homecoming or returning home. I returned to my Oregon roots and set out to craft an exceptional old-vine Pinot Noir from highly acclaimed vineyards," says Lindsay. In collaboration with consulting winemaker, Eric Hamacher, she crafts a complex wine that has earned copious accolades from the media and created a strong following among sommeliers and collectors throughout the nation.
Relentless when it comes to perfection, Lindsay is known for her hands-on tending of the vines—even going so far as to pluck unwanted berries from clusters with tweezers. While she leads the winery operations on a daily basis, Lindsay enjoys nurturing the vines and is known for her meticulous labor. All viticultural and winemaking practices are under her insightful vision with a strong commitment to push the edge, allowing Retour to constantly improve its quality to achieve the highest echelon. Read Lindsay's Biography
---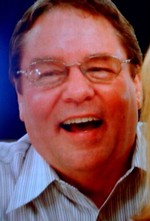 In Memoriam: Ronald "Ron" Scott Woodard
"...Ron always had a strong behind-the-scenes presence at Retour from hauling grapes, delivering wine, making the most epic harvest meals, hand labeling bottles, any needed repairs - you name it! He loved to cook and entertain visiting clients and would take them on unique one-of-a-kind adventures. His gracious, genuine and charming nature allowed him to easily make friends with so many people from around the World...." READ MORE ABOUT HIS REMARKABLE LIFE HERE
---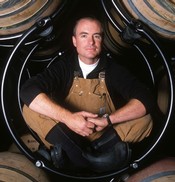 Eric Hamacher, Consulting Winemaker
After earning a degree in viticulture and enology at UC Davis, Eric Hamacher set forth to gain extensive winemaking knowledge and to date, has worked more than 30 harvests at numerous wineries around the world. After producing wine for esteemed wineries such as Mondavi, Chalone and Etude, he realized his heart was in Oregon and followed pursuit to travel North and create the perfect Pinot Noir. Eric founded Hamacher Wines in 1995 and has since proved an uncompromising commitment to quality. In less than a decade, he became one of the most respected and sought after producers in Oregon. He has established a reputation for being a masterful blender of expressive and balanced Pinot Noir and produces some of the most elegant Chardonnay in the United States.
The combination of Eric's humility, world-class talent and years of experience shape a hand that is light. Track marks from Hamacher are nowhere to be found. His influence is fleeting – his job is to get out of the way, let the wine tell its story. Native yeasts, small open-top fermenters, a delicate approach that coaxes and nudges but does not intrude. Simple tools like meticulous fruit sorting, artistic temperature control, precise punchdowns and pumpovers, gentle gravity-fed movements, and a comfortable bedding of hand-selected French oak barrels. Raising the wine takes a watchful and experienced eye, knowing when to provide loving discipline and when to let go. It is an honor to be working with Hamacher, whose approach is perfectly aligned with the vision of crafting a wine that vibrates with spirit of place.
---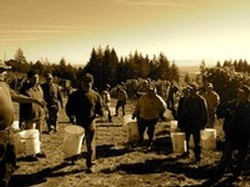 THE FABRIC OF RETOUR
The loyalty from our growers, their meticulous crews and our incredible team at the winery, prove critical to the success of each and every vintage. They are the fabric of Retour and we are extremely grateful for their endless hard work, commitment and dedication to making such an exceptional wine.
Of course it goes beyond... there are so many others who have been a part of the driving eminence for Retour. From the barrel coopers, to those who craft all of our packaging materials, to collectors, sommeliers, restaurateurs, chefs, wine buyers, national distributors, media, wine event partners and more - we thank you for your unwaivered support.