GLOWING REVIEWS: WHAT THEY'RE SAYING...

The media has placed Retour among the best with copious accolades such as: "Lindsay Woodard runs one of the Willamette Valley's most coveted luxury brands... Cult Vintner" (Katherine Cole, 750 Daily), "One of the most important labels in Oregon... Star Producer" (Food & Wine), "Editors' Choice" (Wine Enthusiast) and "An Iconic Winery" (PDWR). Harvey Steiman, Editor-In-Chief of Wine Spectator declared Retour as "The Cutting Edge: One of The Top Producers" and claims the results are "impressive". Forbes also named Retour as "One of the coolest wine labels in the world". On May 10, 2010, Woodard had the honor of receiving the prestigious "Rising Star Award" from Margrit Mondavi at the Women for WineSense national organization's 20th Anniversary Gala, (held at the Culinary Institute of America - Greystone in St. Helena). A very memorable occasion. In addition to the media, Retour Wines have also given a strong impression and gained a loyal following among sommeliers, wine buyers and serious collectors around the world. All of which have truly exceeded our highest expectations.
Aside from glittering reviews, it is your reply that makes Retour possible. Many of you have been an integral part of building the success and momentum with Retour. It is such a glowing recognition for all of the meticulous details, commitment and hard work that has been put into the winery. For that, I am forever grateful. - Lindsay Woodard
---
"HOW LINDSAY WOODARD BECAME A CULT WILLAMETTE VALLEY VINTNER"
Katherine Cole, 750 Daily
"GO TO McMINNVILLE, OREGON FOR YOUR NEXT GIRLS' WEEKEND"
VOGUE
"CHANGES BRING SUCCESS IN SUN VALLEY"
WINE SPECTATOR
"...Organizers report that the competitive bidding really got under way when Lindsay Woodard, proprietor of Willamette Valley's Retour Wines, took the stage to garner enthusiasm for Lot 5, a tour of Oregon wineries lead by Woodard herself. The lot, which sold for $21,000, was among the evening's most popular wine-related packages..."
OREGON WINE AWARDS
RETOUR IS CROWNED WITH "DOUBLE GOLD AWARD"

The Oregon Wine Awards, known as "Oregon's most prestigious wine awards program..."
crowned Retour with the "Double Gold Award". Special thanks to all of the professional wine judges on the tasting panel.

WOMEN FOR WINESENSE - "RISING STAR AWARD"
MARGRIT MONDAVI HONORS LINDSAY WOODARD
at 20th Anniversary Grand Event at the Culinary Institute of America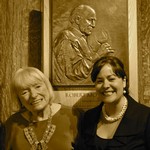 Women for Wine Sense (WWS), the premiere wine education and networking
organization for wine industry professionals and wine enthusiasts announced that Lindsay Woodard, Proprietor of Retour Wine Company and Founder of Lindsay Woodard Communications (LWC), received the prestigious "Rising Star Award" by Margrit Mondavi, at the 20th Anniversary Grand Event on May 1, 2010, at the Culinary Institute of America in Saint Helena, California.
WINE SPECTATOR
TAKING A RETOUR
Harvey Steiman, Editor-In-Chief, Wine Spectator
THE CUTTING EDGE
10 Emerging Oregon Producers
Harvey Steiman

"RETOUR: Lindsay Woodard, who grew up in McMinnville, buys grapes from all six Willamette Valley AVAs to make a consistent blend that expresses the region instead of a single site, and the results have been impressive. Winemaker Eric Hamacher managed to make a silky wine with finesse in the overripe 2006 vintage, and a wine of purity and intensity in the rain-plagued 2007...."

WINE SPECTATOR ONLINE "DAILY PICKS"
2007 Retour Pinot Noir

WINE SPECTATOR
RETOUR RANKS IN THE TOP THREE:
A Bakers Dozen of Outstanding 2007 Pinot Noirs From Oregon
Harvey Steiman
A few Oregon producers managed to make outstanding Pinot Noirs in the rain-plagued 2007 vintage, whether it was through hard work in the vineyards and wineries or just plain luck. The wines are light and relatively low in alcohol, for the most part avoiding the overripeness and over-extraction that affected some of the 2006s.
...The best 2007s feature delicacy, red fruit and floral flavors with real elegance and finesse. They achieved some intensity of fruit, avoiding the green flavors and hard-edged tannins that marred too many other wines in the vintage. These Pinot Noirs look like they can age well, and fans of delicacy should give them a look-see.
HARVEY STEIMAN, WINE SPECTATOR
91 Points - Sharply focused, ...juicy flavors that ride over a sleek frame and through a layer of fine tannins on the finish...

ROBERT PARKER'S WINE ADVOCATE
An enticing bouquet ... full-flavored yet elegant wine that is vibrant on the palate, well-balanced, and lengthy.

HARVEY STEIMAN, WINE SPECTATOR
92 Points - Focused, seamless and well defined ...the finish lingering expressively.

JOSH RAYNOLDS, STEPHEN TANZER'S INTERNATIONAL WINE CELLAR
92 Points - Seductively perfumed aromas ...finely focused and pure, with excellent finishing clarity...
I really like this graceful wine's subtle power and balance ...

DOUG WILDER, WINE WRITER
"Top 25 List of 2008 - Eight in Abundance" ... Retour makes the list as one of the Top Eight Pinot Noirs.

ANTHONY GIGLIO, FOOD & WINE
"Star Producer - Four Stars" (Highest Possible Rating).

HARVEY STEIMAN, WINE SPECTATOR
"...Their first vintage, 2006, jumped out at me in my blind tastings as one of the more elegant and
fresh-tasting wines … I liked it a lot, and made a point to visit them when I was in Oregon recently..."

PAUL GREGUTT, WINE ENTHUSIAST
"Editors' Choice - A very fine debut... exciting newcomer".

LYNNE CHAR BENNETT, SAN FRANCISCO CHRONICLE
"The 2006 vintage is exceptional. Retour 2006 Pinot Noir... has overall finesse".

DOUG WILDER, THE WILDER SIDE OF CALIFORNIA
"An ambitious project… A brilliant debut".

ROBERT WOLFE, OPNC
"A Significant New Release… the wine succeeds on all levels. Kudos to the Retour team".

ALLEN MEADOWS, BURGHOUND
"Rich and delicious... excellent character and vibrancy. Promising..."

. . . . . . . . . . . . . . . . . . . . . . . . .






Wine Spectator "Great Reds, Top Wines Issue"
Harvey Steiman, Editor at Large, Wine Spectator Magazine

Retour 2006 Pinot Noir - 92 Points
"Focused, seamless and well defined, aiming its full-blown cherry, blackberry, cocoa and white pepper flavors down the middle of the palate, the finish lingering expressively. Drink now through 2016. 600 cases made." – Harvey Steiman, Wine Spectator

. . . . . . . . . . . . . . . . . . . . . . . . .

Stephen Tanzer's International Wine Cellar
By Josh Raynolds

92 Points - Bright red. Seductively perfumed aromas of raspberry, cherry preserves, Asian spices and a hint of smoked meat. Lively red berry flavors are given depth and a refreshingly bitter edge by cherry skin and pit notes. Juicy, finely focused and pure, with excellent finishing clarity and lingering sweetness. I really like this graceful wine's subtle power and balance and suspect that it will reward at least another three to four years of patience.

. . . . . . . . . . . . . . . . . . . . . . . . .

"Top 25 List of 2008 - Eight in Abundance"
Doug Wilder, Wine Writer

The 2008 edition of my Top 25 list is the eighth one I have written since 2001 and it brings a two-pronged focus to Cabernet Sauvignon and Pinot Noir. Retour 2006 Pinot Noir - 94 Points
Premiere release
Aromas: Licorice, lilac, blue stone fruit
Palate: Solid focus to the saturated black and red cherry and mouth-popping red raspberry
Impression: A beautiful first effort showing power and elegance from a top vintage. Long 60 second + finish

. . . . . . . . . . . . . . . . . . . . . . . . .




FOOD & WINE: WINE GUIDE 2009
By Anthony Giglio

"STAR PRODUCER" - Retour
The winery may be new but the vines are among the Willamette Valley's oldest;
winemaker Eric Hamacher is a seasoned crafter of supple, balanced Pinot Noirs.

* * * *
FOUR STARS (Highest Possible Rating) - Retour | Willamette Valley
Eric Hamacher's meticulous winemaking shows in every aspect of this brillant Pinot Noir, from the bright fruit aromas mixed with sweet spice, earth and rose petals to the muscular yet refreshing flavors of black raspberries, milk chocolate and smoky oak. - Anthony Giglio

. . . . . . . . . . . . . . . . . . . . . . . . .




Retour 2006 Pinot Noir
"EDITORS' CHOICE"
90 Points "A very fine debut..."
Paul Gregutt,
Wine Enthusiast Magazine
European Varieties, Oregon Style: These are exciting times for Oregon vintners. The decades of being known as "America's answer to Burgundy" have been good for those Willamette Valley wineries whose focus was Pinot Noir, but restrictive for everyone else...

The Willamette Valley is still the heart of Oregon wine country, and as the vineyards mature, the quality of the wines climbs ever higher, both at such well-established producers... and at exciting newcomers such as ...Retour.
. . . . . . . . . . . . . . . . . . . . . . . . .



"Oregon Pinot Noir"
Lynne Char Bennett

"...The 2006 vintage is exceptional..."

Oregon's warmer-than-usual weather in 2006 resulted in an abundant harvest of optimally ripened grapes, which produced richer wines with more body and deeper fruit than usual. Winemakers crafted some lovely wines, including these recommendations - a greater-than-average number and quality - from the 73 we tasted. (32 wines recommended)

2006 Retour Willamette Valley Pinot Noir ($65)
Earthy cherry, slight mineral and spice with lots of anise and wood on the nose.
A deeper, more powerful palate of dark plum fruit, a bit of bergamot and grippy tannins... there's overall finesse.
. . . . . . . . . . . . . . . . . . . . . . . . .

"Taking a Retour"
Harvey Steiman, Editor at Large, Wine Spectator Magazine

For those of us who appreciate a good Oregon Pinot Noir, it's frustrating that so many of the better ones are made in such small quantities. Not only are they hard to find in a wine shop, you also just can't expect to see them on any normal restaurant wine list. It takes a specialist, and even then, the usual allotment of a single case (or less) can disappear from a restaurant in weeks, requiring the sommelier to keep updating the list with something else.

Those of us who are serious about Pinot Noir know this and make allowances. If our first, second or third choices are not available, we'll take No. 4 or 5. But nothing pleases a restaurant wine buyer, or a regular customer, quite so much as knowing that there will be enough to keep a wine on the list until the next vintage. Even better would be enough to stash some away to build a nice little vertical.

But that is hard to do if each winery divides its best grapes among a half dozen single-vineyard bottlings, each about 100 or 200 cases, hardly enough to go around, especially when most of the production never leaves Oregon, or sells almost entirely through a mailing list. The grapes that don't make the single-vineyard bottlings often get blended in a larger-quantity wine. Often the blend is better than the small-lot wines, a point not lost on Lindsay Woodard...

They decided to put all their grapes into one basket, so to speak, make just one wine in enough quantity to spread it around the country, and export most of it out of Oregon.

Their first vintage, 2006, jumped out at me in my blind tastings as one of the more elegant and fresh-tasting wines of a vintage prone to big, rich flavors and textures. I liked it a lot, and made a point to visit them when I was in Oregon recently. They make their wines at the Carlton Winemakers Studio, but Woodard called the day before to say that the winery would be a madhouse with everyone bottling before the harvest, and could we meet at her parents' house near McMinnville? That worked out fine...

... Woodard got the bug as a first-year mass communications student at Linfield College in McMinnville, helping out as a volunteer at the International Pinot Noir Celebration held there. She got a job setting up the Ponzi wine bar in Dundee, and later represented Riedel glass in Napa Valley. As a marketing consultant for small and medium-sized wineries, she became acutely aware of how easily a winery can fall off the radar if the supply runs out after three months.

"It's great to sell it all fast," she said, "but you get forgotten about."

They used their McMinnville roots to meet growers and get enough grapes to get started. Although the first vintage numbers only 600 cases, they plan to increase production to a target of 2,000 by 2010, mostly by developing good enough relationships with the growers to get more from each one instead of having to add new vineyards every year.

The core vineyard is Hyland, in McMinnville. "That provides the structure,". The vines were planted in 1972, which makes them among Oregon's oldest. "Then we wanted the lush licorice thing that you get from Eola Hills." That comes from Vitae Springs vineyard. They also get grapes from Durant in Dundee Hills, Johnson (one of Lemelson's vineyards) and Wahle, both in the Yamhill-Carlton AVA.

After interviewing several winemakers, they settled on Eric Hamacher, who has a similar philosophy of blending wines from different areas to get a more complex, complete wine. He also aims for elegance over power... Hamacher runs the Carlton Winemakers Studio, where he makes his own wines, so the combination suited them all.

For the 2007 vintage, which will be released next spring, the two put in long hours out in the vineyards when the rains came in late September and early October. "We spent three weeks pulling leaves, creating air flow so the grapes would dry out if they could," Woodard sighed. "It worked. We hardly had any split or moldy grapes. And the seeds got brown," an indication of ripeness that few vineyards achieved in '07. Alcohol levels averaged 13 to 13.5 percent, less than in '06.

The 2007, bottled about one month, shows a harmony and completeness that is rare in '07, and impeccable balance in a vintage where acidity can stick out.

Retour is not the only Oregon winery that makes sufficient quantities of outstanding Pinot Noir to get a significant portion into year-round national distribution. Although these wineries also makes single-vineyard and special reserve bottlings that are higher priced, Domaine Serene's Evenstad Reserve, Argyle's Reserve, Bergström's Cumberland Reserve, Domaine Drouhin's Willamette Valley bottlings and, these days, Erath's Dundee Hills Estate Selection are consistently outstanding wines made in quantities of 5,000 cases or more.

Sometimes I wonder whether such wines might be better if the single-vineyard stuff went into their blends, especially when the single-vineyard wines are good but not especially distinctive. If Retour sticks to its plan and puts it all into one wine, they might set an example that will make Pinot Noir just a little less precious. And more available.
. . . . . . . . . . . . . . . . . . . . . . . . .



"The premiere release of Retour Pinot Noir"
Doug Wilder, Vinfolio's Free Run Juice

I always like to see new projects come across my radar screen. It is even more interesting when the wine has a story and a solid infrastructure of fruit sources and talent with a track record. I was surprised to learn that ...Lindsay Woodard was someone who I had first met nearly ten years ago in Napa Valley.

The wine, made by Eric Hamacher takes its name, Retour, from the French term for "returning home". Both partners are originally from Oregon and have now moved back following years of being away. This project is the culmination of their shared dream to produce wine of the highest quality from their home.

Retour is an ambitious project with fruit coming from a host of top flight sources including Hyland, Wind Hill, Wahle, and Vitae Springs. The wine is artisinally produced, using only native yeast, fermented in small open tops, aged in a majority of used french oak and bottled unfined and unfiltered. The packaging is unique in that the gorgeous bottle is topped by a metal label that is as beautiful as it is innovative.

The wine receives its first professional review here in my blog.

2006 Retour Pinot Noir Willamette Valley, VF 94

A fragrant nose of cherry and spicy vanilla with hints of licorice, blue plum and lilac/violet pastille. The palate is focused and elegant showing off restrained tannins mingling with the polished, pure raspberry and dark cherry flavors. The finish lasts for over sixty seconds. A brilliant debut.

. . . . . . . . . . . . . . . . . . . . . . . . .

"A SIGNIFICANT NEW RELEASE"
Robert Wolfe, OPNC
May 5, 2008
I am pleased to announce the inaugural retail release of a significant new Oregon pinot noir: The 2006 Retour Pinot Noir.
One thing us Oregon "old-timers" talk about when we get together is "all them new wineries." It has gotten to the stage where no one can really keep up with everything that's happening in the Oregon wine business anymore. It makes things more exciting, I think, but also means that the Oregon wine landscape has changed forever in a manner that marks a passage from one era to another.
One part of the new era of Oregon wine that I dislike is all the poor-quality wine being produced by all them new wineries. I put serious effort into trying lots of the new labels, but I am most often disappointed. Then I wonder, what's wrong with these folks?
That's why I was so thrilled when I recently tasted the 2006 Retour pinot noir, the brainchild of Lindsay Woodard. This new product seems to have done everything right - the wine is terrific, the packaging is beautiful and innovative, and their literature and communications are first-class and professional. All said, I think the launch of Retour could be the beginning of one of the most important new labels in Oregon in recent memory.
Let's start with the important part - the wine. It's rich, complex and nuanced, layered and long, and most of all balanced. The wine has real structure, and completely avoids the primary (and thankfully rare) pitfall of the '06 vintage, which is overripeness. Instead, minerals, soil nuances and very fine tannin give shape to the deep, red-berry fruit. As the wine unfolds in the glass, great mid-palate detail emerges. The wine stays fresh and even lively despite that sheer concentration, thanks to pitch-perfect acidity. For drinking now, a bit of decanting is appropriate - even for as much as a day. But this will integrate and develop very well over the next six months to six years, so cellaring is a solid option.
How did they do it? First, they persuaded winemaker Eric Hamacher to make the wine - OPNC clients need no introduction to his fine wines. Next, they embarked upon what they somewhat fancifully call their "old vine program" -- the fruit is sourced from several respected, old-vine vineyards including Hyland and Durant vineyards. The finest barrels are then blended to produce the final product.
Finally, a special nod goes to their packaging. Not necessarily the enormous bottle, but to the metal label. That's right, the label is stamped, shaped aluminum, curved to fit the contours of the bottle, and is simple, elegant, and utterly gorgeous. I'm the first person to say that the wine is much, much more important than the package, but I must also admit that this is one damn fine looking package.
All in all, this is an amazing freshman effort, and the wine succeeds on all levels. Kudos to the Retour team.
. . . . . . . . . . . . . . . . . . . . . . . . .