MANIFEST DESTINY PINOT NOIR:
A tribute to my family who crossed The Oregon Trail in 1847...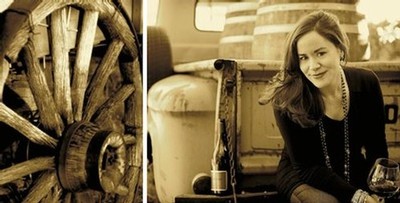 While the meaning of retour is the french term for going back, or homecoming, Manifest Destiny is about leaping forward, taking a risk and achieving one's full potential. It is a true reflection of ideal American values, a celebration of independence, innovation, exploration and individualism. This special project is a personal tribute to Lindsay Woodard's ancestors who were one of the original pioneers in the Willamette Valley. Production is extremely limited each vintage.
---
"SIX GENERATIONS AGO, my family embarked on a perilous journey to explore unmarked territory. In 1847 they crossed the United States and arrived via The Oregon Trail. Determined to set roots in the 'promised land' they founded three towns, a hotel, grist mill, flour mill, lumber mill, a schoolhouse, two general stores, built bridges and ferries, orchestrated the railroad development and served on the first territorial legislature that signed Oregon as part of the Union in 1859. Their solid determination and adventuresome spirit played a significant role in the development of territories, the western frontier and creating Oregon as a state. I feel it is a privilege to keep the entrepreneurial spirit alive." - L.W.
The Story Is In The Bottle
There is a profound connection that traces back to the pioneers of this bountiful and fertile region. Therefore, it is our passion to continually offer a wine that matters. A wine that has purpose, a wine that shares the history and soul of this glorious place. The 2014 Manifest Destiny Pinot Noir is pure, precise and everything you expect from a classic Pinot Noir. Powerful, focused, balanced and supple with gorgeous acidity and fine integrated tannins that lead to a persistent and spicy finish.