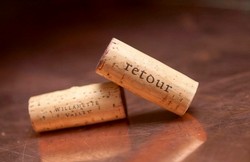 2014 Retour Pinot Noir - Library Wine
SOLD OUT! - THIS IS NOW A LIBRARY WINE
PLEASE CONTACT LINDSAY WOODARD FOR ACCESS TO OLDER VINTAGES
2015 RETOUR WILL BE RELEASED THIS SPRING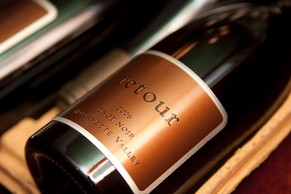 PRE-RELEASE OFFERING TO MEMBERS OF THE MAILING LIST
Orders will be held until safe temperatures for shipping permit. We take every caution in order to protect the wine. All sales are final.
Dear Friends:

It has been a very exciting time for Retour and I truly have so much to be thankful for. The strong demand of Retour and Manifest Destiny have made a dramatic shift in the past year with a stronger focus on selling direct to consumer and letting go of several national distributors. It has been a whirlwind of excitement and greater intensity with travel, challenges and personal growth. I have absolutely loved spending time with so many of you at private tastings, winemaker dinners and charitable wine auctions around the country!

You have been an integral part of Retour's success and I continue to be so grateful for your support. It is such a personal reward to offer you first access to the 2014 Pinot Noir. Signature to the Retour style, this wine is focused, nuanced, has pitch perfect acidity, great concentration and depth. The complexity, character and eloquent structure really shine from this outstanding vintage.

This is a stunning wine and I hope you will have the opportunity to enjoy it. With the strong demand of the national market and for those who have purchased futures, allocations are tight. Early ordering is strongly encouraged!
Thank you for your continued support and interest in Retour. I look forward to hearing from you and celebrating the success of the 2014 vintage together. As always, may your corks fly straight and your aim be true!

Yours Truly,

Lindsay Woodard
---