Wish you were here? Be a part of the Retour lifestyle and join us on our journey. Whether it's at your home, in the winery, a favorite restaurant, or attending a fabulous fête somewhere in the U.S., we look forward to sharing our wines with you.
Be sure to check back here often as the portfolio of posts continue to grow.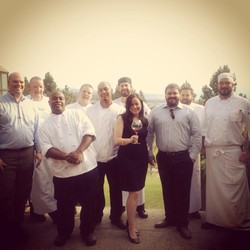 July 30, 2014 | Photo: I'm joined by Executive Chef Toby McCracken and his incredible culinary team, Sommelier Jason Wedl and my brother, Jeff Woodard, at The Stock Farm Club
RETOUR HITS THE "BIG SKY" FOR A CULINARY WEEKEND AT THE PRIVATE STOCK FARM CLUB
There was no better way to unwind from the International Pinot Noir Celebration, by taking flight to Big Sky Country in Montana. It was a tremendous honor to be invited to stay at the Stock Farm Club, owned by Charles Schwab and host a Retour Winemakers Dinner. This elite and private club is set at the foot of the Bitterroot Mountains of the Rockies, nestled in thousands of acres where Elk roam, white tail deer, cattle and horses graze. The fly fishing is world class and it was truly a highlight when Jeff caught a big Brown Trout. The weekend was exceptionally wonderful and we made so many new friends of Retour. The highly talented culinary team at Stock Farm, is at the top of their game and Chef Toby McCracken is a great force to reckon with in the kitchen! Special thanks to Sommelier Jason Wedl for inviting Retour to the Stock Farm!
---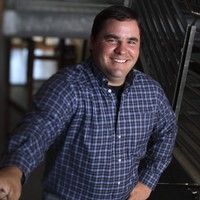 May 22, 2014
"ANNOUNCING THE OPENING OF WOODARD WINES"
www.woodardwines.com | I am thrilled to announce that my brother Jeff Woodard is opening the doors to his independent wine shop WOODARD WINES today. For those of you who know Jeff, he is regarded as one of the greatest wine educators and personalities in the Willamette Valley. For the past five years, he has been the Wine Director at The Carlton Winemakers Studio. He has been an integral support with my winery and has a long history of experience in the wine business.

I could not be more proud of Jeff for taking the risk and leap of starting his own venture. His wine shop is located on the community plaza in historic downtown McMinnville, on Third Street. Jeff has insight to the valley's greatest, smallest and up and coming producers. In addition to a large selection of Oregon labels, he also offers imported wines - including rare and highly collectible bottles.

If you are unable to travel to the valley - not to worry! He can ship wine direct - and you can also join his amazing wine club: Jeff Woodard Selections. It will be so exciting to watch his business flourish and grow. I hope you all welcome me in congratulating Jeff on his new venture.
---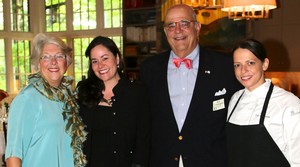 May 20, 2014 | Photo: I'm joined by Elizabeth & Rod Rodriguez, Co-Chairs & Owners of Tabasco and Chef Sue Zemanick of Gautreau's New Orleans
BASCOM MUSEUM "COLLECTIVE SPIRITS" WINE AUCTION
What an amazing weekend!! I am beyond humbled at the welcoming received in Highlands, NC at the "Collective Spirits" Wine Auction for the Bascom Museum. I made so many new friends and helped raised $32,000 during the live auction and had the honor of giving an inspirational speech for the paddle raise. We surpassed the goal by miles and raised $175,000 (!!) during the paddle raise - Lot #10. To me, there is no greater joy than raising money to help children and the arts. Hosted a private winemaker's dinner with New Orleans Chef Sue Zemanick (2014 James Beard Award for Best Southern Chef). Stayed in the most charming house at 4,400ft elevation with greatest friends Chef Sam McGann, Cindy McGann, Anna Mohr Parker and Katy Parker. Moderated an educational seminar on the Willamette Valley, with a great group of guys. Special thanks to Elizabeth McDonald and Greg Quiroga for inviting me. The Bascom is such a special place and I am so honored and grateful to have been a part of raising money for an important cause.
---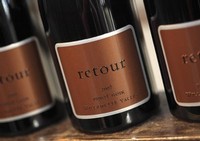 "A DECEMBER TO REMEMBER"
This holiday season, we are delighted to present you with the opportunity to share our limited 2009 Retour Pinot Noir with your friends, family and business associates. Retour makes a unique and exceptional gift.
Our holiday offering will include the following: 1) Individual bottles will be adorned and dressed to impress in elegant tissue 2) A personalized card, presented on distinctive Italian stationery and, beautifully hand-written to your specifications 3) Bottles will be signed by Lindsay Woodard, upon request. Click here to ACQUIRE.
---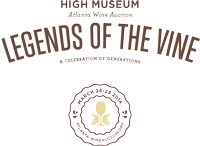 November 11, 2013
"HOTLANTA ... HERE WE COME!"
Hot News! Retour has partnered with Prime Wines and Spirits in Atlanta. There is great synergy between our winery and this fine wine distributor, therefore it's a natural to work together. In addition, we have been invited by members of the board to attend the High Museum Atlanta Wine Auction in March 2014. It's an honor to participate as a vintner in one of the most successful wine auctions in the country. So get ready to raise your paddles high Hotlanta - I will see you this Spring!
Read more about the "High Life" HERE.
---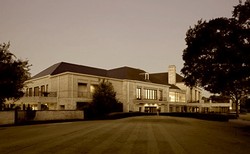 November 7, 2013
"RETOUR TO RIVER OAKS"
River Oaks Country Club, Houston, Texas
God Bless Texas... there is really nothing more wonderful than true Southern Hospitality. Special thanks to my good friend, Christian Varas, Sommelier of ROCC who invited me to fly down South and pour a vertical of Retour for private members. We celebrated by opening the first ever Jeroboam (3-Liter!) of 2008 Retour Pinot Noir. It was showing beautifully, as were all of the wines. It's always an honor to Retour to River Oaks. Here's to seeing old friends and making new ones! I'm truly grateful for all of the support and enthusiasm everyone showed about the wines. Now, I'm off to Atlanta...
---

October 2013
"THE RETOUR REPORT: GOOD BEGINNINGS MAKE GREAT ENDINGS"
IN THE WILLAMETTE VALLEY, we are known for living on the edge. This growing season is a perfect example of how well we can manage an intense challenge. Our region is one of the most unpredictable areas in the world to forecast the weather. Therefore, it is imperative that we're armed, ready and have the ability to adapt to a sudden change that Mother Nature may throw our way. In this business, you can never rest on your laurels. We find greater strength when the wind is in our face.
Click here to read the Full Harvest Report
---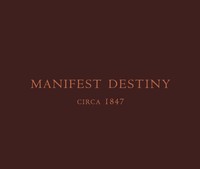 October 2013
"RELEASE OFFERING: 2010 MANIFEST DESTINY PINOT NOIR"
While the meaning of Retour is the french term for going back, or homecoming, Manifest Destiny is about leaping forward, taking a risk and achieving one's full potential. It is a true reflection of ideal American values, a celebration of independence, innovation, exploration and individualism. This special project is a personal tribute to my ancestors who were one of the original pioneers in the Willamette Valley. Production is extremely limited each vintage, about 100 cases. Click Here